28/12/19 – Un peu de retard sur notre top de fin d'année ? La dinde (bien copieuse) de Mémé couplée aux excès en tout genre propres aux repas de Noël sont sans aucun doute à blâmer ! Mais de toute façon… qui prête encore de l'attention à ces interminables listes ? Et surtout, comment classer un disque et déterminer qu'il mérite plus qu'un autre une place plus (ou moins) importante dans le classement. Comme à notre habitude, on a simplement retenu 12 albums. 12 albums qui nous ont marqué, un pour chaque mois de l'année, sans ordre particulier, et c'est déjà bien assez ! Dites-nous ce que vous en pensez et surtout, faites nous part de VOS albums préférés en 2019. 
A l'année prochaine..!
---

JULIA JACKLIN Crushing (Polyvinyl/Transgressive/Pias)
NICK CAVE & The BAD SEEDS Ghosteen (Bad Seed Ltd/Pias)
PIP BLOM Boat (Heavenly Recordings/Pias)
The NATIONAL I Am Easy to Find (4AD/Beggars)
FRUSTRATION So Cold Streams (Born Bad Records/L'Autre Distribution)
The MINNEAPOLIS URANIUM CLUB The Cosmo Cleaners (Static Shock Records)
BALTHAZAR Fever (Pias)
L'ORANGE & JEREMIAH JAE Complicate your life with Violence (Mello Music Group/Modulor)
L'ÉPÉE Diabolique (Because Music/A Record)
CALEXICO & IRON & WINE Years to Burn (City Slang/Pias)
PURPLE MOUNTAIN Purple Mountain (Drag City/Modulor)
CESCHI Sad, Fat Luck (Fake Four Inc./Modulor)
---

TANIKA CHARLES Gumption (Record Kicks)
DRAUGHT DODGERS Draught Dodgers (Beast Records)
The EMINENT STARS Bumpin' On (Tramp)
LEE FIELDS It Rains Love (Big Crown/Differ-Ant)
KELLY FINNIGAN The Tales People Tell (Colemine)
DURAND JONES & The INDICATIONS American Love Call (Dead Oceans)
BOB MOULD Sunshine Rock (Merge Records/Differ-Ant)
PETER PERRETT Human World (Domino)
REIGNING SOUND Abdication…For your Love (Merge/Differ-Ant)
CARLTON JUMEL SMITH 1634 Lexington Avenue (Timmion Records)
TINDERSTICKS No Treasure but Hope (City Slang/Pias)
YOLA Walk Through Fire (Easy Eye Sound)

---

EMILY JANE WHITE Immanent Fire (Talitres)
KID ACNE Have a Word (Lex Records)
SAMEER AHMAD Apaches (Bad Cop Bad Cop Records)
The COMET is COMING Trust in the Lifeforce of Deep Mystery (Impulse)
NILOK4TET & DANIEL ZIMMERMANN A Wonder Plane… (Alfred Productions)
GERALD GENTY Là-Haut (30 Février)
GEYSIR Malsamaj (Figures Libres Records)
HANNAH WILLIAMS & The AFFIRMATIONS 50 Foot Woman (Record Kicks)
MODERN NATURE How to Live (Bella Union/Pias)
COCHEMEA All my Relations (Daptone Records/Differ-Ant)
The MYSTERY LIGHTS Too Much Tension (Wick Record/Daptone/Differ-Ant)
FRUSTRATION So Cold Dreams (Born Bad Records/L'Autre)
---
The MENZINGERS Hello Exile (Epitaph/Pias)
NEW JUNK CITY Small Places (Night Animal/Secret Pennies/Real Ghost)
CITY AND COLOUR A Pill for Loneliness (Still Records)
The NIGHTWATCHERS La Paix ou le Sable (Lövely Records)
GRADE 2 Graveyard Island (Hellcat)
DAVE HAUSE Kick (Rise Records)
La DISPUTE Panorama (Epitaph/Pias)
St. PLASTER St. Plaster (White Russian/Bearded Punk)
MANNEQUIN PUSSY Patience (Epitaph/Pias)
HESITATION WOUNDS Chicanery (Deathwish)
YOUNG HARTS Truth Fades (Bad Health)
The FEARLESS FLYERS II (Vulf Records
---
EARTH Fall Upon her Burning Lips (Sargent House/Differ-Ant)
WASTE OF SPACE ORCHESTRA Syntheosis (Svart)
NONE Damp Chill of Life (Hypnotic Dirge Records)
INTER ARMA Sulphur English (Relapse)
SUNN O))) Life Metal (Southern Lord)
LINGUA IGNOTA Caligula (Profound Lore)
CHELSEA WOLFE Birth of Violence (Sargent House/Differ-Ant)
WHITE WARD Love Exchange Failure (Debemur Mortis Productions)
CULT OF LUNA A Dawn to Fear (Metal Blade Records)
ESOTERIC A Pyrrhic Existence (Nuclear Blast)
ALCEST Spiritual Instinct (Season of Mist)
LORD MANTIS Universal Death Church (Profound Lore)
---

BIG THIEF Two Hands (4AD/Beggars)
BILL CALLAHAN Shepherd in a Sheepskin Vest (Drag City/Modulor)
BILL RYDER-JONES Yawny Yawn (Domino)
BONNIE « PRINCE » BILLY / BRYCE DESSNER / EIGHT BLACKBIRD When We Were Inhuman (37d03d)
CHRIS COHEN Chris Cohen (Captured Tracks)
DAMIEN JURADO In the Shape of a Storm (Mama Bird Records)
PAPERCUTS Parallel Univere Blues (Slumberland)
PETER PERRETT Humanworld (Domino)
RAT COLUMNS Candle Power (Upset the Rhythm)
TINDERSTICKS No Treasure but Hope (City Slang/Pias)
PURPLE MOUNTAINS Purple Mountains (Drag City/Modulor)
STUDIO ELECTROPHONIQUE Buxton Palace Hotel (Violette Records)
---

LEONARD COHEN Thanks for the Dance (Columbia)
The WHO Who (Polydor)
The RACONTEURS Help Us Stranger (Third/Pias)
WEEZER Weezer (The Teal Album) (Atlantic)
COLDPLAY Everyday Life (Parlophone)
NEIL YOUNG + STRAY GATORS Tuscaloosa (Reprise Records/Warner)
BRUCE SPRINGSTEEN Western Stars (Columbia)
NICK CAVE & The BAD SEEDS Ghosteen (Bad Seed Ltd/Pias)
BILLIE EILISH When we Fall Asleep, Where do we Go ? (Darkroom/Interscope)
CAROLINE POLACHEK Pang (Perpetual Novice)
J.S. ONDARA Tales of America (Verve)
ALAIN SOUCHON Âmes Fifties (Parlophone)
---
Best of 2019 en playlist
Playlist également disponible sur Spotify.
---
Concerts de l'année
The National
au Café de la Danse puis à l'Olympia de Paris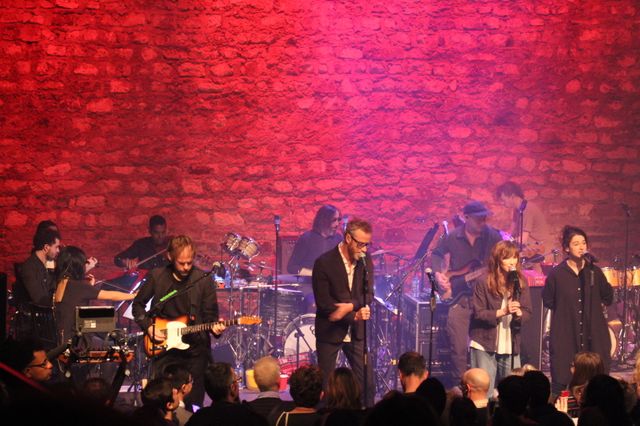 ---
Odezenne & Moussa à La Coopérative de Mai de Clermont-Ferrand

---
Atmosphere, Dem Atlas, The Lioness & DJ Keezy à Paris, La Bellevilloise

---
La 1ère édition du festival de Guéret Check-In Party 
---
L'intégralité du festival This Is Not A Love Song !